Dry Fruit Exporter
Azar Taj Co proudly stands as a leading Iranian dried fruits exporter and wholesaler, with a rich history steeped in the tradition of preserving fruits through the ages. Originating from a region where drying fruits was a necessity for prolonged storage, the company has evolved into a global player, contributing significantly to the popularity of dried fruits worldwide. Specializing in a variety of dried fruits, including figs, apricots, and the renowned Iranian dried grapes raisins, Azar Taj Co has established itself as an unrivaled name in the industry. The commitment to quality and taste sets Iranian dried fruits apart, making them a choice that resonates across the globe.
Dried fruit for export: Iran's Role in the Global Dried Fruit Market
Organic Dried Fruit Bulk
In the realm of dried fruits, Azar Taj Co takes pride in not just being an exporter but a champion of quality. The company is dedicated to providing organic dried fruit in bulk, ensuring that each product maintains its natural essence without compromise. The fruits are dried using traditional methods or modern wind tunnel dryers, delivering a selection that includes raisins, dates, prunes, figs, apricots, peaches, apples, and pears. Azar Taj Co's commitment to organic practices extends beyond production, as the company strives to contribute to a healthier lifestyle by offering dried fruits packed with essential micronutrients and fiber.
Our commitment to quality extends to the organic realm, where we source the finest fruits to create a selection of organic dried fruits in bulk. The sun-drenched landscapes of Iran provide the ideal environment for cultivating fruits bursting with natural sweetness. We believe in offering not just a snack but a wholesome experience, free from additives and artificial enhancements. Explore the goodness of nature with Azar Taj Co's organic dried fruit bulk collection, and savor the taste of purity in every bite.
Wholesale Dried Fuit Suppliers
Azar Taj Co, standing at the forefront of dried fruit production in Iran, is not just a supplier; it's a reliable partner for businesses seeking wholesale dried fruits. The company's extensive range, coupled with a commitment to excellence, has positioned it as a go-to choice for businesses looking to meet the growing demand for dried fruits. Whether you are in the retail sector, the food industry, or a health-focused enterprise, Azar Taj Co's official website at Azartajco.com is your gateway to a world of premium-quality dried fruits. Place your orders with confidence, knowing that you are partnering with a company that understands the importance of delivering not just products but a promise of superior taste and nutritional value.
Premier Iranian Dried Fruits Exporter
Standard And Quality
At Azar Taj Co, we take pride in upholding the highest standards of quality, ensuring that our dried fruits not only meet but exceed international benchmarks. Our commitment to excellence is reflected in the certifications we proudly hold: the Halal Certificate, ISO 9001:2015, and ISO 22000:2018. These certifications stand as a testament to our unwavering dedication to delivering products that adhere to strict quality control measures, ensuring that every bite of our dried fruits is a promise of purity, safety, and superior taste.
Halal Certificate
Azar Taj Co recognizes the significance of religious and cultural preferences in food choices. Our Halal Certificate is a symbol of our respect for Islamic dietary laws and practices. It assures our customers that our dried fruits undergo rigorous processes, adhering to the Halal standards from production to packaging. This certification not only reflects our commitment to inclusivity but also guarantees that our products are suitable for consumers who seek Halal-certified options.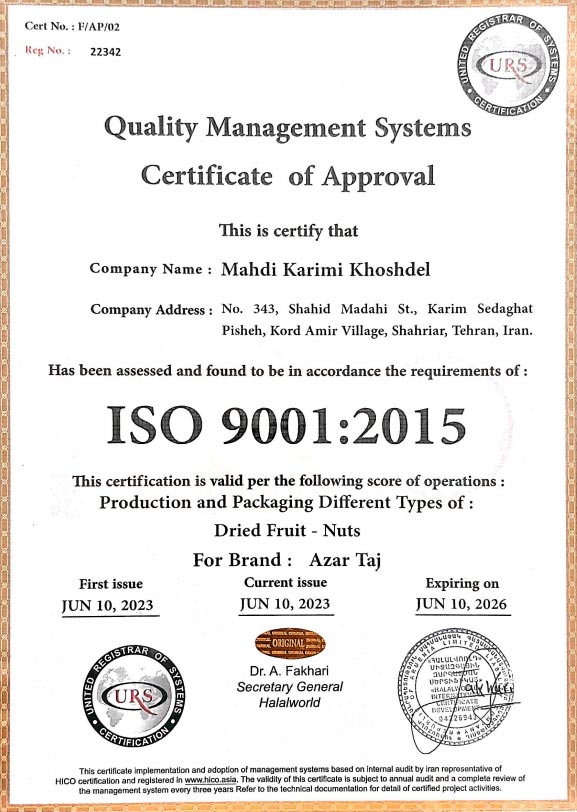 ISO 9001:2015
Quality management is at the core of our operations, and our adherence to ISO 9001:2015 standards underscores our dedication to continuous improvement. This certification signifies that Azar Taj Co has implemented a robust quality management system, ensuring that every aspect of our dried fruit production meets or exceeds international quality benchmarks. From sourcing raw materials to the final packaging, our commitment to ISO 9001:2015 standards is your assurance of consistent quality and customer satisfaction.
ISO 22000:2018
Recognizing the critical importance of food safety, Azar Taj Co has obtained ISO 22000:2018 certification. This standard is a comprehensive food safety management system that encompasses every stage of our production process. From the cultivation of fruits to the delivery of the final product, we employ stringent measures to ensure the safety and integrity of our dried fruits. Our ISO 22000:2018 certification is a testament to our dedication to providing not just delicious but also safe and wholesome dried fruits to our valued customers.
Conclusion
Azar Taj Co's journey in the dried fruit industry is a testament to the rich heritage of Iranian dried fruits. As a dry fruit exporter, promoter of organic dried fruit bulk, and a reliable wholesale dried fruit supplier, the company stands as a beacon of quality and tradition. Explore the world of dried fruits with Azar Taj Co and experience the unparalleled taste, nutrition, and excellence that only Iranian dried fruits can offer.
Dried fruit factory: Wholesale & Export of Dried Fruits From Iran